How Can I Get Involved?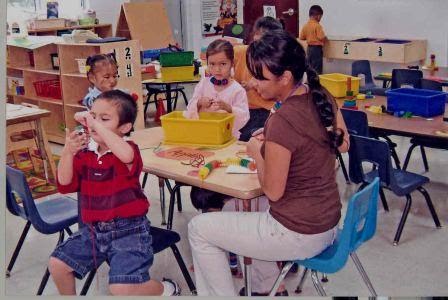 Parents are the most important influence on a child's development. Because of this, Head Start is based on a partnership between parents/guardians and Head Start Program Staff. Participation in parent-child projects and/or activities support class lesson plans and activities. Parent involvement is also highly encouraged in the operations of Head Start through participation as a volunteer, in Center Level Parent Groups, or in the Guam Head Start Policy Council. Your involvement is essential to the success of the Program and most especially, to your child's development.
Center Level Parent Group
Parents' participation is very important in a child's Head Start experience.  For this experience to be meaningful and lasting, parents must participate in the daily program and at Center Level Parent Group (CLPG) meetings.  These monthly meetings provide an opportunity to share experiences with other parents in planning your child's learning activities.  CLPG meetings also allow parents to give their input in the planning of educational curriculum, staff and parent training, as well as the development of health and social services.
Each Center Level Parent Group elects officers (Chairperson, Vice-Chairperson, Secretary, and Treasurer) as well as a Policy Council Parent Representative and Alternate Representative.  Below is a link to the CLPG / GHSPC Officers Handbook to guide you on any further questions you may have pertaining to Center Level Parent Groups. 
CLPG & GHSPC Officers Handbook
Volunteers in Head Start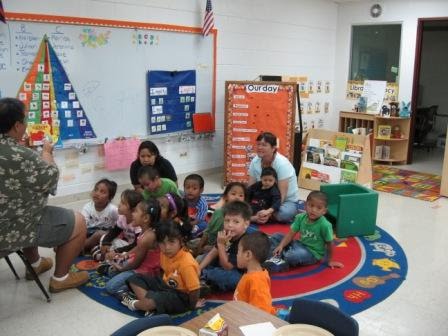 Volunteers in Head Start work as classroom assistants, lunchroom and kitchen helpers, custodial assistants, bus attendants, or office helpers.

Parents learn more about their child's development and their role as the primary educator of their children and are able to obtain experiences that may be helpful for future employment.  For many parents, serving as a Head Start volunteer can be the first step on a career ladder. In fact, the GDOE Personnel Rules & Regulations provide for the preferential consideration for hiring of Head Start parents for employment as non-professionals in the Head Start Program. In addition, 640 classroom volunteer hours is equal to one year of work experience (the minimum requirement for a Head Start Teacher's Assistant). For this reason, Head Start provides training and support systems for parent volunteers. This is one way that the program helps families become self-sufficient.

Community volunteers provide benefits to Head Start through the provision and expansion of services and training.  Senior citizens, health professionals, nutrition consultants, members of the armed forces, students, and community leaders feel ownership and responsibility for a program in which their special skills are well utilized, valued, and recognized.  They also often serve as positive role models and mentors for parents who wish to improve their parenting skills, attain an educational diploma or degree, or develop career goals.

If you are interested in becoming a volunteer in Head Start, contact the Head Start Central Office for information on required clearances and ways in which Head Start may be able to assist you in obtaining them.
Father Involvement in Head Start
Head Start has a long history of focusing on fathers and father figures as important contributors to the school readiness of children and the well-being of families. We realize that many fathers and father figures play a significant role in the lives of young children. Because children benefit from positive, strong, and cooperative relationships between their parents or caregivers, Head Start supports co-parenting whenever possible.
Head Start promotes health relationships for families and encourages the involvement of fathers and father figures in order to strengthen the role of those fathers in families, in the education of young children, and in the Head Start program, by working directly with the fathers through activities such as:
Including the fathers in home visits and parent-teacher conferences
Providing opportunities for direct father-child interactions
Targeting increased male participation in the program