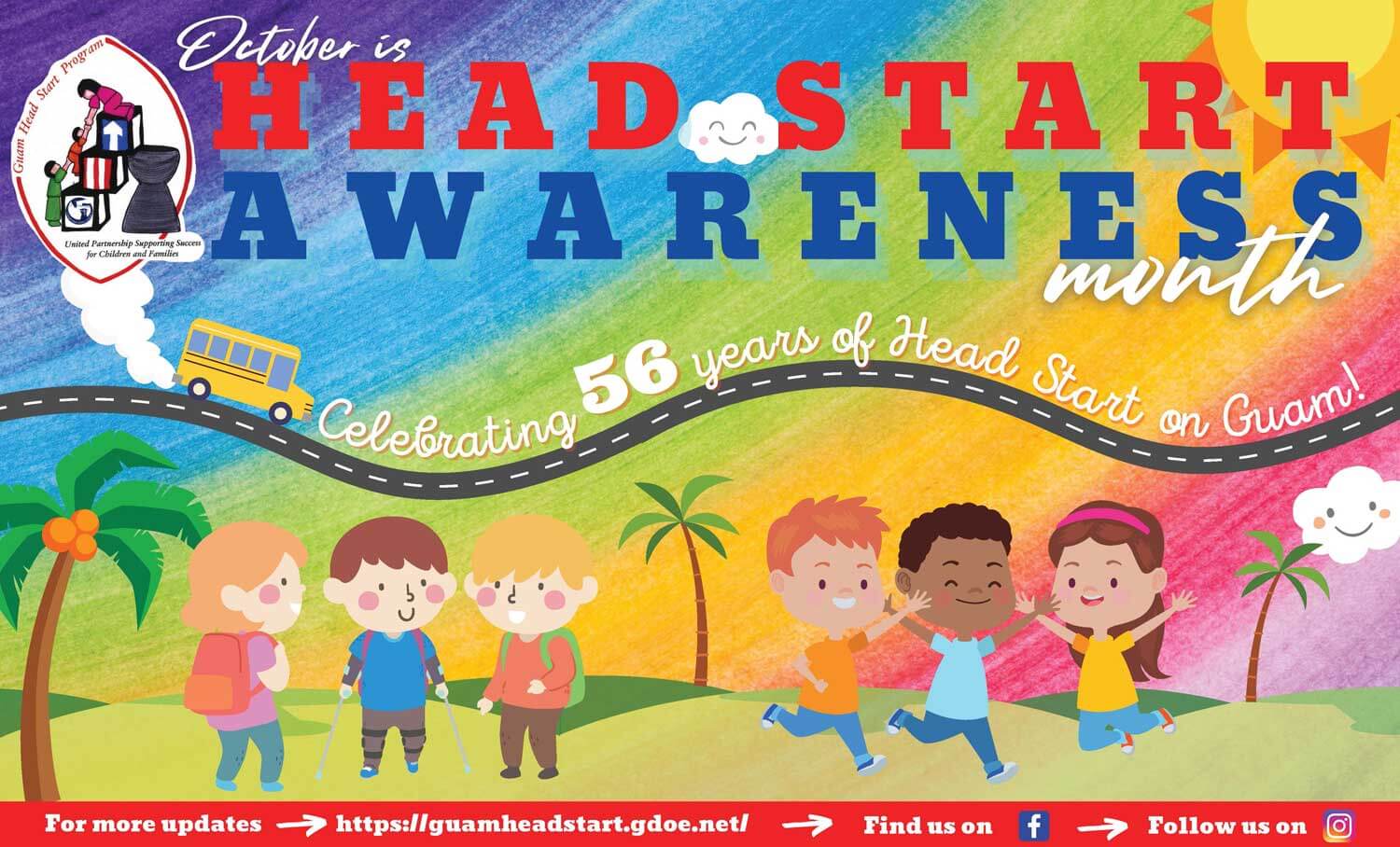 FAMILY PROJECTS
Head Start Through Our Eyes Stories: Due by October 20 - Did you attend Head Start as a child? Are you a current or past Head Start parent or family member? We want to hear your story about how Head Start has helped your child and family. Send email to headstartawareness@gdoe.net or submit your responses at  https://forms.gle/qXCgARwmyAWJKmBG7.  You may be featured on our website and/or social  media!
 
Parent-Child Literacy Project: Due by October 27 - Spend time together and work with your children to create an original story book. Write and Illustrate a short story book, tell an original story, or put your child's art together in a picture book! Video record you and/or your child presenting their original book or telling a  story and submit it to headstartawareness@gdoe.net  for a chance to be featured in our Head Start website and/or social media!
HEAD START KNOWLEDGE SERIES:
These weekly workshops will provide families with information and activities to support positive child and family outcomes.
Virtual Family Story Hour: Every Friday at 10:30am - We encourage families to participate in this free biweekly online family read along with activities. Participants will eventually receive copies of children's books used at these virtual sessions. Register to participate at  bit.ly/ReadingMicronesia.  
 
Eat Smart, Be Active Workshops: Weekly on Mon/Wed/Fri OR Tues/Thurs - Join us to learn about nutrition and physical activity skills for your family.. Workshops are offered online throughout October.  Register to let our presenters know your preferred schedule at https://tinyurl.com/pm6zp59t 
 
ReadyRosie: October 6 - Parenting is rewarding and sometimes stressful. In this interactive workshop, families will explore positive parenting strategies.
 
Bank Of Guam Financial Empowerment - Having a child means having hopes, dreams…and expenses. While you want to give your child the best life possible, it can be hard to save for tomorrow when you have so much happening today. To set your child up for success, it's important to save for their future and also teach them good money habits from an early age. Join us!
 
What to Do When Your Child Gets Sick - Children may have illnesses, injuries, and health problems, but as a parent do you know how to help your child during those times? Join us to learn about the management of common childhood illnesses, injuries, and health problems of children from birth to 8 years of age and get easy to use information on what can be done at home and when to call a healthcare provider. 
 
Promoting Mental Health For Families and Children - Join us for a fun-filled interactive session filled with activities to promote mental health and wellness for children and family! 
 
Stress Management - Stress is a natural part of everyday life.  Join us to learn how to prevent and manage stress in healthy ways.
OTHER PROGRAM ACTIVITIES:
Legislative Resolution: Friday October 1 at 5pm - The Guam Legislature will recognize Head Start Awareness Month via I Liheslaturan Guåhan's Zoom Conference platform.  The hearing will be broadcast on local television and streamed online via Guam Legislature Media on YouTube.
 
Self-Care Saturdays - Take care of yourself so you can take better care of your children.  Because self-care and mental health are connected, neglecting one negatively impacts the other. Make some time for self-care! Post a selfie or video of yourself doing your favorite self-care activity and tag us on social media.
 
GHSPC Transition Meeting: October 13 at 6pm - The first meeting for newly elected Parent Representatives will be held on Zoom at 6pm. Elections for GHSPC will be held at this meeting. As  always, Parent Alternates, other interested parents & staff are welcome to attend. 
 
Virtual Proclamation Signing: October 15 at 1:30pm -  Join us and watch as Honorable Governor Lou Leon Guerrero proclaims October as Head Start Awareness Month live on the Governor's Facebook page  (https://www.facebook.com/govlouguam), or via Zoom (Link to be sent at a later date).
 
Get up and Move! October 19 & 26 - Regular physical activity for children and families is so important. Join us for our live Zoom follow along activities.
 
Parent Teacher Conference: October 29 - Check with your child's teacher for information on the 1st quarter Parent-Teacher Conference.
WEEKLY THEMES
Head Start Pride Week: October 3 to 9 - Support our Head Start children, families, and staff are encouraged to show their Head Start Pride by wearing our Head Start colors of RED, WHITE, and BLUE.   Tag us on our social media.
 
Be a Role Model Week: October 10 to 16 - Contact your child's teacher to join us virtually and inspire young minds.  Share your talents and hobbies with the children or teach them about the work that you do.
 
Take It Outside Week: October 17 to 23 - Take your children outside to connect with the natural world and increase physical activity.  Creating healthy learning environments, both in and outside the classroom, will improve their physical, cognitive, social and emotional development and reduce childhood obesity.  Our physical activity handouts list simple and fun activities for families to promote a healthy environment in your home. 
 
Let's Read Together! Family Literacy Week: October 24 to 30 - Whether you read a bedtime story or talk about the news,  you are helping to develop your child's language and literacy skills. Contact your child's teacher & volunteer to read a book or tell a story to children during virtual class time.
Send your photos and videos to us at headstartawareness@gdoe.net and tag us on our social media platforms!
Instagram: @guamheadstart ✦ Twitter: @GuamHeadStart ✦ Facebook: @GuamHeadStart 

 
> 2021 Head Start Awareness Month Activities

> 2021 Head Start Awareness Month Calendar